If you happen to come into the Distillery located in downtown Hagerstown, Maryland, you may be greeted by one of our infamous bartenders, Michael O'Connell. Born and raised in College Park, Maryland, Michael shared a few general facts about himself as a bartender and more.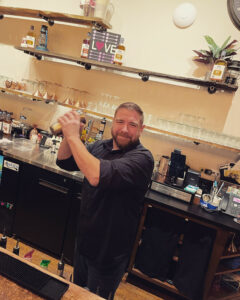 1. What's Your Favorite Drink?
I love Bourbon with a Bourbon ice cube. I'm also kind of an IPA guy, I really accept any beer you offer and don't really not shy away from stouts either.
2. What Meinelschmidt Product Do You Favor?
The 100 Proof Cast Whiskey; smooth and unforgettable.
3. What's your Favorite Drink to Make as a Bartender?
Definitely an Old Fashioned!
4. What is the worst drink you've ever had?
A Jersey Turnpike. This is when they pour all the contents of the bar mats into a glass…there are a lot of names for it, but it's absolutely disgusting.
5. What's Your Favorite Bar that you've been to in the last 10 years?
Nanny O'Briens, Washington DC.
Bonus Question:
What's Your Favorite Holiday Drink?
Guinness, on St. Paddy's day!